IF I HADN'T PERSONALLY VISITED Valve's offices on several occasions, I might begin to wonder if they were based out of a subterranean evil lair off the coast of Seattle. Valve doesn't so much make games any more as they toy with their fanbase, teasing them with rewards like Team Fortress 2 hats the way you would dangle a toy mouse in front of a cat.
Valve's latest ploy surrounds the upcoming launch of Portal 2, which may come a little sooner than the expected April 19 release date. This page yesterday had a countdown timer leading to … well, no one knew. At 9AM PST this morning, the page flipped to the following teaser text from GlaDOS, before redirecting to a page listing the 13 indie games that make up "The Potato Sack" package available for download on Steam: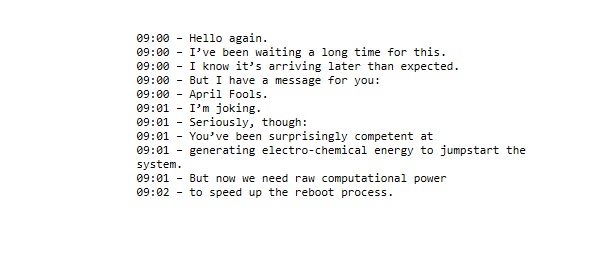 With a new "projected launch" timer sitting around 91 hours as of this writing, the game Valve seems to be playing is: the more people play the games in the Potato Sack package, the faster GlaDOS will "reboot" and the sooner Portal 2 will go live. Which, honestly, is simultaneously brilliant and evil. It's the kind of thing that taps into the OCD gamer mentality, where you know people will be up all weekend trying to make the needle move faster, and makes Valve look heroes to the indie game community for tying this group in with the launch of such a major title. Oh, and if the community succeeds in taking the gate off early, it means more sales for Valve via Steam instead of selling at retail. Like I said, brilliant and evil.
Will it work? Will the community succeed in getting Portal 2 released a day or two early, or is this just more teasing from Valve? Either way, you know the folks at Valve are watching with much interest, and maybe twirling a mustache or two.