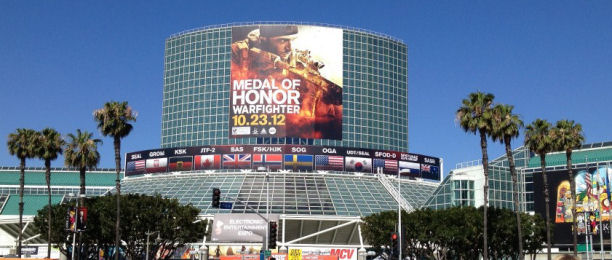 THE ESA ANNOUNCED TODAY that they'd signed an agreement to keep E3 in Los Angeles for the next three years, running through 2015. The news was met with the predictable variety of reactions, usually boiling down to whether that reporter or commenter happened to be a fan of L.A. or not.
The most interesting part of that news, however, is that the L.A. Convention Center is about to undergo a major overhaul to make way for the proposed Farmers Field football stadium, which includes the removal of the West Hall that traditionally houses a large part of E3. Which led to the following quote in today's ESA statement:Â 
E3 2013 would take place June 11-13, 2013, at the Los Angeles Convention Center, L.A. LIVE and a plethora of venues throughout downtown Los Angeles and the City. 
For many writers and industry folk, this quote will produce some level of unease, wondering what exactly "plethora of venues" might mean.
You might remember the ESA experimented with a different approach to E3 back in 2007, trying to establish a "more personal" affair. Moving the show from May to July, a much smaller exhibitor area was located in a Santa Monica hangar, with most of the large publishers setting up shop and taking appointments at a variety of fancy hotels near the Santa Monica pier. It was enough of a pain in the ass that it lasted exactly one year, with E3 returning to the LACC a year later. 
And make no mistake, covering that E3 was awful. If you drove, parking at the hotels was a disaster. If you didn't, getting back and forth between the hotels and the Santa Monica hangar was a pain in the ass. We didn't have a traditional war room at the LACC, so it was hard to get any writing done during the day unless you just took up residence in a hotel lobby between appointments. The ritzy hotels were a nice change of scenery, especially those right on the beach, but there was nothing "more personal" about that show, which is why it didn't make an encore performance.
Ultimately, it seems unlikely that the ESA would go back to the Santa Monica approach, but would instead leverage the many hotels near the LACC that publishers already use to take appointments. Still, if construction gets going – there's supposed to be news on that this week – and the West hall space is lost, where do those exhibits go? Does the ESA just cut everyone's space in half, or is there a second large exhibitor location nearby, or do they repeat the mistake of having a decentralized E3, with stuff scattered all over the place?
I'll admit, I'm still having a hard time wrapping my head around the idea that the city is planning to build a football stadium on that site. I remember that space before the LA Live area was built, attending several Grammys at the Staples Center and afterparties held in the West hall, and the idea of it vanishing and a football stadium going up just kind of boggles my mind. But it should make for some even more entertaining E3s down the road … assuming they don't just move to Vegas.