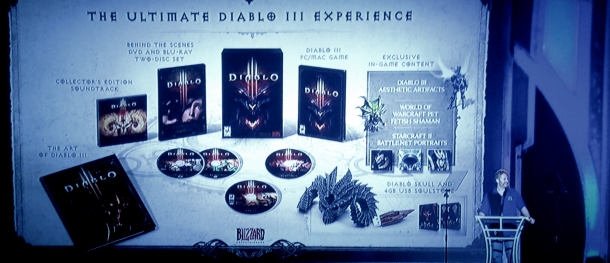 BLIZZCON 2011 OPENED ITS DOORS TODAY here in Southern California, and all three of the developer's main franchises were represented well at the opening ceremonies, which just ended:
Diablo III: Blizzard CEO/President Mike Morhaime unveiled the final box art for the game, due in 2012 (sorry, no official launch date yet), followed by a look at the Diablo III Collector's Edition (it's a cool-looking white box).
Then came the big bombshell: a full, digital version of Diablo III will be FREE to all World of Warcraft annual subscribers the day D3 goes live (as well as beta access to the next WoW expansion, and a free mount). This was followed a by video showing the history of the Diablo franchise, after which Blizzard's Chris Metzen took the stage to unveil a new Diablo III trailer.
StarCraft II: There wasn't any huge news on this out of the opening ceremonies, other than Metzen unveiling a new trailer for the Heart of the Swarm. OMG! Here come the Zerg!
WoW 5.0: The biggest news by far, the next World of Warcraft expansion – Mists of Pandaria – was revealed. The expansion, which will raise the level cap to 90, will be set on a serene new continent "lost in time" called Pandaria, and will introduce the new Pandaren race and a new Monk class. Hey, did I mention pandas?
Afterwards, Metzen finally confirmed a bit of WoW lore that had been floating around forever: That the Pandaren were originally supposed to be the new Alliance race in Burning Crusade, not the Draenei.
The Blizzcon fun is just beginning, as the WoW developers will be taking the stage soon to talk more about Mists of Pandaria. More to come!