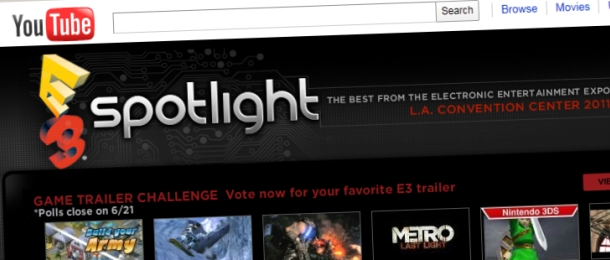 AS A COMPANION to my "100 Games of E3" post, I've also put together this list of must-see videos that came out of the show. Some are trailers, some are extended pieces of gameplay footage, but these were the games that got people buzzing the most at E3.
ASSASSIN'S CREED: REVELATIONS
First up, there's the new trailer, which gets high marks simply for the choice of music : Woodkid's "Iron," which sets a pitch-perfect tone for the end of the trilogy.
Then there's the extended bit of gameplay footage from the Ubisoft press conference, which is just as good, if not better. And as a bonus, you get a short clip of Annoying Guy introducing what the game might have looked like in an alternative universe.
BATTLEFIELD 3
Maybe the single piece of footage that generated the most buzz at E3 2011, this six minute clip of the "Thunder Run" mission, loaded with tank combat, does a wonderful job of showing off the new Frostbite engine.
BIOSHOCK INFINITE
Irrational didn't release much new footage of Bioshock Infinite at E3, but they did put out this brief trailer featuring a taste of the insane gameplay it will will offer.
BROTHERS IN ARMS: FURIOUS 4
This E3 trailer got a lot of people talking, not necessarily because the game looks good, but because it signals such a radical new direction for the formerly reverential Brothers In Arms series. It's easy to see why everyone's referring to it as Inglorious Basterds: The Game.
CALL OF DUTY: MODERN WARFARE 3
There were two big pieces of MW3 gameplay shown at E3 this year. The first opened up the Microsoft press conference, showing a team of SEALs infiltrating a sub in the New York Harbor, and then surfacing to a fairly striking scene.
The second demo was more traditional combat, a mission called Black Tuesday set in the streets of Manhattan.