ONE OF THE BIGGEST CHALLENGES of a show like E3 is simply getting a grasp on everything being shown: who's showing what, what surprises might turn up, and how the heck do you cover it all?
Writing a zillion previews wasn't in the cards for me this year, so if you missed E3, or just got back from the show and want to catch up, or simply don't want to spend all week combing the net for coverage, here's a look at 100 of the biggest games in development and what we learned about them at E3 2011.
In about a dozen cases, I've mentioned games that weren't at E3 at all, which I often find as interesting as the games that turn up. This list is also strictly full-size games; stuff for the portables like the new 3DS and PlayStation Vita will have to wait for another list.
1. ACE COMBAT: ASSAULT HORIZON
Oct 11 2011 || X360, PS3 || D: Project Aces, P: Namco Bandai
Described as a "rebirth" for the Ace Combat series, which hasn't had a full console outing since 2007, Assault Horizon takes much more of a cinematic, story-driven approach than its predecessors, set in real-world cities instead of fictional locales, which may raise a few eyebrows of hardcore fans. Demos for one of the few big air combat games at E3 focused on improved dogfighting, helicopter combat and multiplayer action.
2. ALIENS: COLONIAL MARINES
Spring 2012 || X360, PS3, PC || D: Gearbox, P: Sega
The oft-delayed tactical shooter based on the classic sci-fi films finally made an E3 showing with a teaser video and live gameplay demo. Not unlike Gearbox's Brothers in Arms games, you control a squad of four soldiers and have the ability to switch between them, with co-op support allowing other players to jump in and out of the boots of other Marines as desired. A Wii U version was also announced, and if that doesn't use the touchscreen controller as a heartbeat sensor, it'll be one of the greatest missed opportunities in the history of videogames.
3. ASSASSIN'S CREED: REVELATIONS
Nov 15 2011 || X360, PS3, PC || D/P: Ubisoft
It's all been building up to this, as Ezio's journey assumedly comes to an end in Revelations. The game was the cornerstone of Ubisoft's E3 2011 presence, as they closed their press briefing with a great AC:R trailer and extended footage of the game in action. One of the game's new hooks is, in fact, an actual hook that Ezio can use to climb buildings or yank enemies closer, or, as seen in one impressive section, zipline across a sea of burning ships.
4. BATMAN: ARKHAM CITY
Oct 18 2011 || X360, PS3, PC || D: Rocksteady, P: WBIE
I remember getting a demo of Batman: Arkham Asylum in 2009 and coming away completely unimpressed by it. It must have been a poor demo, because it ended up as one of the biggest hits of the year, and the followup, Arkham City, was by far one of the most anticipated games of E3 2011. The announcement of Catwoman as a playable character as part of the main campaign and subsequent demos showing her in action generated a lot of buzz, as she has some interesting abilities that should differentiate her sections from Batman's.
5. BATTLEFIELD 3
Oct 25 2011 || X360, PS3, PC || DICE, EA
Battle lines were drawn early at E3 2011 between Battlefield 3 and Modern Warfare 3. EA took every opportunity to mention that they'll have a suite of completely free community features (an obvious dig at Activision's upcoming "Call of Duty Elite" service), as well as announcing an October release date two weeks ahead of MW3. But what really got everyone's attention was the jaw-dropping Battlefield 3 footage in the new Frostbite 2 engine, especially the "Thunder Run" demo shown at EA's press conference featuring large-scale tank combat.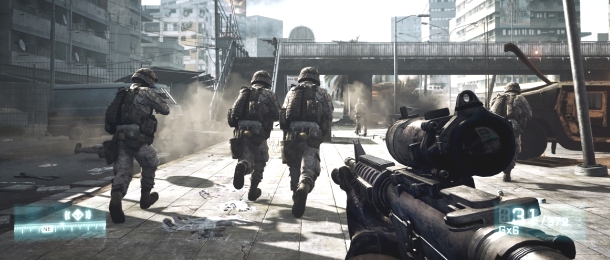 6. BEYOND GOOD & EVIL 2
Date TBD || Platforms TBD || Ubisoft
Announced in 2008, not much had been heard about the BG&E sequel aside from a 2010 comment from series creator Michel Ancel that the game was still in development. This year, Ancel told GI.biz "it is still alive and we are very far [into] development so we can't go back now …. we are targeting the next generation of consoles." Well, then. With no BG&E2 for the X360 or PS3, it looks like it's going to be a pretty long wait.
7. BIOSHOCK INFINITE
2012 || X360, PS3, PC || Irrational, 2K Games
This new Bioshock game is set not in the underwater city of Rapture, but in a new airborne city called Columbia. And this time, you're not arriving after the disaster, but in the middle of it, as you're attempting to rescue a young woman named Elizabeth. As in Bioshock, you'll be loaded up with a variety of crazy powers as well as traditional weapons, and for E3 this year, Irrational released a brief teaser trailer along with gameplay demos showing off a new section of the game. Easily one of 2012's most anticipated games.
8. BLACKLIGHT: RETRIBUTION
Date TBA || PC || D: Zombie, P: Perfect World
In an interesting twist, this sequel to 2010's Blacklight: Tango Down will be PC-only and free-to-play. Unsurprisingly, the game will feature deep customization options, from the gear you're wearing to the weapons you carry, which leads to the as-yet unanswered questions: will you have to pay to buy gear, and how much?
9. BODYCOUNT
Aug 30 2011 || X360, PS3 || D: Guildford, P: Codemasters
Initially conceived as a spiritual sequel to Black, Bodycount looks to position itself as an "arcade shooter" at the other end of the spectrum from military shooters like Call of Duty or Battlefield. Just a few months from release, the team used E3 to show off some new areas, destructible environments and its novel cover system.
10. BROTHERS IN ARMS: FURIOUS 4
Date TBA || X360, PS3 || D: Gearbox, P: Ubisoft
Unveiled at Ubisoft's press conference, the Brothers in Arms series veers in a very different direction with a game that's been unanimously interpreted as Inglorious Basterds: The Game. After introducing the game's four comical lead characters via a brief trailer, a playable demo was shown behind closed doors to a limited number of outlets, featuring over-the-top action as the foursome tore their way through a German town.
11. CALL OF DUTY: MODERN WARFARE 3
Nov 8 2011 || X360, PS3, PC || D: Infinity Ward/Sledgehammer, P: Activision
The game that opened up Microsoft's press conference is obviously the game everyone's trying to beat this year. While the E3 demos were predictable in terms of the gameplay we've come to expect from the series, they were still extremely impressive. Footage covered a SEAL team attempting to infiltrate a sub, surfacing outside to a Manhattan with smoldering skyscrapers and battleships littering the harbor, leading to infantry combat set at landmarks like Wall Street.
12. THE CURSED CRUSADE
July 26 2011 || X360, PS3, PC || D: Kylotonn, P: Atlus/dtp
This bloody third-person action-adventure game set against the backdrop of medieval Europe looks pretty straightforward, as you play a cursed Templar who can enter a hellish state to unleash even more damage on enemies. You're accompanied on your journey by a mercenary companion, controlled either by AI or by a friend.
13. DANCE CENTRAL 2
Oct 25 2011 || X360 Kinect || D: Harmonix, P: Microsoft Games
To what should have been the surprise of no one, Harmonix turned up at E3 2011 with a sequel to Dance Central, AKA "the main reason most people bought a Kinect." Shown off at the Microsoft press conference, the game will feature an expanded campaign mode, the ability for dancers to play simultaneously, and the option to import songs from the first Dance Central, similar to way you could transfer songs from one Rock Band game to the next.
14. DARK SOULS
Oct 4 2011 || X360, PS3 || D: From Software, P: Namco Bandai
The spiritual successor to 2009's Demon Souls, this third-person hack-and-slasher promises to be even more brutal in terms of difficulty, which might be a little frightening to some. Namco promises that Dark Souls will be a little more open in terms of overall structure, and good news for X360 owners: you'll get to join in the fun this time as well (as Dark Souls was PS3-only).
15. THE DARKNESS II
Oct 4 2011 || X360, PS3, PC || D: Digital Extremes, P: 2K Games
Many things have changed for the sequel to the well-received 2007 shooter. Digital Extremes is handling development in place of Starbreeze, the game has a new, more comic-like art style, lead character Jackie is now the head of his crime family. E3 demos showed off the game's more comic-style artwork, how Jackie needs to stay out of the light in order to access his darkness powers, and a new ability called "quad wielding," where Jackie has two demon heads that he can use to attack alongside his normal arms.
16. DARKSIDERS II
TBA 2012 || X360, PS3, PC, Wii U || D: Vigil, P: THQ
While a sequel was completely, Darksiders II was formally unveiled at E3 2011 via a brief trailer. Once again, you play as one of the Four Horsemen of the Apocalypse, but instead of War, as in the first game, you'll be playing as Death this time around, with events taking place as the same time as the first game. In addition to X360, PS3 and PC versions, it was also announced at Nintendo's press conference that Darksiders II would be a Wii U launch title.
17. DEAD ISLAND
Sep 6 2011 || X360, PS3, PC || D: Techland, P: Deep Silver/Square Enix
A few months ago, there was a lot of buzz about the first Dead Island trailer, which told a heartbreaking story of a little girl caught in the middle of a zombie attack at an island resort. E3 offered a deeper look at several of the game's locations, some tastes of the melee-heavy action, as well as different characters who are somehow immune to the zombie outbreak and how they'll gain experience and new abilities as you explore the island, which up to four players can team up for via co-op play.
18. DEAD RISING 2: OFF THE RECORD
Fall 2011 || X360, PS3, PC || D/P: Capcom
Initially conceived as a "director's cut" of Dead Rising 2 with extra content and various tweaks, Off the Record will instead offer a parallel experience to DR2, with the original game's hero, photojournalist Frank West, back in the lead role, seeing the events of DR2 through his eyes. The game's E3 presence included a look at a new theme park area, complete with rides, mini-games, and of course, plenty of new, innovative ways to kill zombies.
19. DEFIANCE
Date TBA || X360, PS3, PC || Trion Worlds, Syfy
Billed as "a revolution in TV and gaming," Trion Worlds – the makers of Rift – is teaming up with Syfy to build this action-MMO that will tie in with an upcoming television series of the same name. Set on a future earth shared by aliens and humans after years of war have decimated the planet, the game and series will reportedly influence each other on a routine basis, where events that occur in the show will have repercussions in the game world (and vice versa).
20. DEUS EX: HUMAN REVOLUTION
Aug 23 2011 || X360, PS3, PC || D: Eidos, P: Square Enix
Things have been ramping up quickly for the latest Deus Ex, which is due out this August, and the game's E3 presence consisted of a new trailer and a playable section from around the middle of the game. Set as a prequel 25 years before the first DX, you play as Adam Jensen, who's forced to under go some human augmentations early in the game, setting in motion a conspiracy story that drives the game forward.